IZVORIŠTA: Best of 2022. – top 100 world music albums
Written by Bruškin Radio on January 17, 2023
Nova godina, novi Izvorišta projekt. Od sada Izvorišta možete pratiti i na Substack kanalu, a sve počinje s pregledom najboljih albuma 2022. godine. Top 100 sam izlistavao na Facebook stranici oko Nove godine, a sada ih donosim ovdje, na jednom mjestu. Za prvih 10 albuma imam i opise, ostali su taksativno pobrojani, prije pobrojavanja je tu i podcast s pjesmama s 20 najboljih albuma, a na kraju posta možete pronaći Spotify playlistu s gotovo svih 100 pjesama s albuma.
Piše: Emir Fulurija
#1 Club Makumba – Club Makumba (Sony)
Koji je kriterij za postavljanje nekog albuma na prvo mjesto godišnje liste? U ovom slučaju to je bio broj slušanja kojeg nemam i kojeg je bolje da nemam jer bi me možda malo i bilo strah dokle bi to išlo. Tu su i emocije koje mi ovaj album donosi, koji je bio uz mene kada god mi je trebalo. Dodatak je i onih 20-ak minuta na službenom otvaranju Womexa gdje su Club Makumba uništili sve pred sobom. Nije ovo ništa revolucionarno, ništa što niste čuli ranije, ali na ovakav način sigurno niste. Afro-jazz-rock koji ruši sve pred sobom. S ovim albumom kao soundtrackom bih osvojio cijeli svijet ako treba. Ne vidim kako bi me bilo tko zaustavio.
#2 Al-Qasar – Who Are We? (Glitterbeat Records)
Francuska grupa Al-Qasar inspirirana je arapskom muzikom, ali je spajaju u sjajan miks psihodeličnog rocka s dosta groovea uz jasan utjecaj sjevernoafričkih trans chantova i ritmova. Bend svoj stil zove 'Arabian fuzz', a nakon što su se prije dvije godine predstavili EP-em "Miraj", sada su objavili i svoj prvi album s nevjerojatnim gostima. Jello Biafra, Lee Ranaldo, Alsarah, Mehdi Haddab i Hend Elrawy su oplemenili ono što Al-Qasar radi.
#3 Antonis Antoniou – Throisma (ajabu)
Ovdje nemam što dodati onome što sam napisao kada je album izašao: Antonis Antoniou je prije svega divna osoba. Imam sreću da ga, nakon svih godina dopisivanja i nekoliko susreta uživo, mogu nazvati i prijateljem pa definitivno ne bih mogao biti objektivan prilikom pisanja o njegovoj muzici kada bih u objektivnost i vjerovao. No, osim što je Antonis divna osoba on je i nevjerojatan muzičar koji nikada nema mira. Nakon što je prošle godine objavio svoj prvi samostalni album "Kkismettin", a s Monsieur Doumani maestralni "Pissourin" te obišao gotovo cijeli svijet na turneji, on je našao vremena za novi samostalan album. "Throisma" je izašao danas za ajabu Records, a jedva sam čekao da i službeno izađe pa da napišem koliko je genijalan. Antonis ima prepoznatljiv glas i tzouras (mali bouzouki), ali u svemu ostalom je otišao korak naprijed u odnosu na prethodne radove. "Throisma" ima inspiraciju u tradicijskim melodijama i ritmovima, ali ovo je prije svega jaki psihodelični album. Antonis se ne boji eksperimentirati, graditi pjesme, ako treba, na šapatu i elektroničkim zvukovima pa ih odvesti u potpuno drugom smjeru, razvijati se unutar pjesama, isprobavati mnoge stilove. "Throisma" je sjajan album kojeg definitivno morate poslušati. Ja znam da će se u mojim playerima vrtjeti jako, jako dugo.
#4 Moktar Gania & Gnawa Soul – Gnawa Soul (Universal)
Gnawa je divna sama po sebi. Ta mantričnost je zarazna, a upadanje u trans nije problem čak ni kada se gnawa sluša kod kuće. Za neko live iskustvo nadam se da neću još dugo čekati. Kao što rekoh, gnawa je divna sama po sebi, a još kada je izvodi maalem (master) Moktar Gania, čovjek kojem je gnawa utkana u svaku obiteljsku poru, onda je to posebno iskustvo. Za razliku od svojeg poznatijeg brata Mahmouda, Moktar je modernizirao zvuk, odnosno cijeloj priči dodao saksofon i gitaru koji su obogatili ionako bogati glazbeni stil.
#5 Black Ox Orkestar – Everything Returns (Constellation Records)
Ovaj album je upao u vrijeme kada sam slagao ovu listu najboljih albuma iz 2022. i taman kada sam pomislio da sam većinu toga na vrhu posložio, dogodio se ovakav album. I neka se dogodio. Black Ox Orkestar su snimili novi album nakon 16 godina, a sama ideja da članovi, bivši ili sadašnji, grupa Godspeed You! Black Emperor i Thee Silver Mt.Zion stvaraju nešto što bi se moglo nazvati 'novim klezmerom' ili, kako oni to kažu, "modern Jewish diasporic music that draws influence from Klezmer, Romani, Arabic, Balkan and other East European traditions alongside indie rock, experimental folk and avant-jazz" u samom startu zvuči zanimljivo. A kada još konačni produkt bude bolji od ideje, ne ostaje ništa nego uživati u "Everything Returns" kojeg je objavio Constellation Records. Svijet je stvarno ljepše mjesto zbog ovakve muzike.
#6 Şatellites – Şatellites (Batov Records)
I Şatellites dolaze iz Izraela. I Şatellites su još jedan od bendova koji su zajahali na valu turske (pop) psihodelije. Ne izdvaja ih ništa previše osim što su snimili bezgrešan album. Kako bi se ono reklo – svaka igra, svaka dobiva.
#7 Shadi Fathi & Bijan Chemirani – Âwât (Buda Musique)
Ima taj izraz kojeg (pre)često koristim kada sam oduševljen nečim. Čista ljubav. To je najjednostavniji opis ovog puta u perzijsku glazbu na kojeg nas vode Shadi Fathi i Bijan Chemirani na svojem drugom zajedničkom albumu.
#8 Širom – Utekočinjeni prestol preprostih/The Liquified Throne of Simplicity (tak:till/Glitterbeat Records)
Ja sam zaljubljen u Širom, a oni tu ljubav uzvraćaju na najbolji mogući način – svakim albumom su sve bolji i bolji. Ima li uopće više smisla pričati kako su oni najbolji bend s ovih prostora?
#9 Alpacas Collective – Seven Wisdoms of Plutonia (Selfreleased)
Više ne znam što bih pričao/pisao o tome koliko u Belgiji postoji nevjerojatnih bendova koji su oslonjeni na groove i elemente tradicijske glazbe iz cijelog svijeta. Recimo, Alpacas Collective. Bio sam jako počašćen što mi se grupa javila i prije nego su objavili svoj album te sam u Izvorištima premijerno pustio prvi single s njihovog debut albuma. Ali kakvog albuma! Uh! Ethio-jazz i afrobeat kao podloga uz dodatak puno toga drugoga – sitara, flaute, finih vokala, svega. Album koji je prilikom slaganja ove liste pri svakom preslagivanju rastao sve više i više. Srećom po ovih osam albuma ispred njega, morao sam nekada to preslagivanje i završiti.
#10 Shotnez – Dose A Nova (Batov Records)
Ne znam što se događa u Izraelu, ali iz te države posljednjih godina definitivno dolazi jako puno fenomenalnih bendova. Recimo, Shotnez. Ovako opak ethio-hard-jazz je teško ne slušati glasno i bezbroj puta. Posebno onu zadnju pjesmu koja u nepune tri minute uništava sve pred sobom.
E da, Shotnez je osnovala ekipa koja je osnovala Balkan Beat Box. Štogod mislili generalno o njihovom radu (a ne mislim ni ja baš puno toga dobrog), oni su na početku karijere potpuno razvalili. Baš kao i sada sa Shotnezom.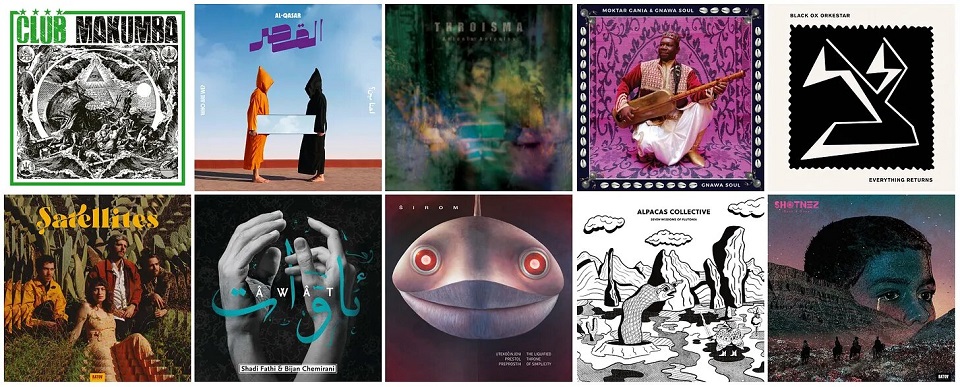 #11 Liraz – Roya (Glitterbeat Records)
#12 Dunjaluk – Dunjaluk (Cantus)
#13 Majid Bekkas – Joudour (Igloo Records)
#14 Mimika Orchestra – Altur Mur (Rika Muzika/Menart Label)
#15 Antonio Castrignanò – Babilonia (Ponderosa Music Records)
#16 Derya Yıldırım & Grup Şimşek – Dost 2 (Bongo Joe Records)
#17 Oumou Sangare – Timbutku (World Circuit)
#18 Naujawanan Baidar – Khedmat Be Khalq (Radio Khiyaban)
#19 Veja – Škura ura (Selfreleased)
#20 Joyce Moreno with Mauricio Maestro – Natureza (Far Out Recordings)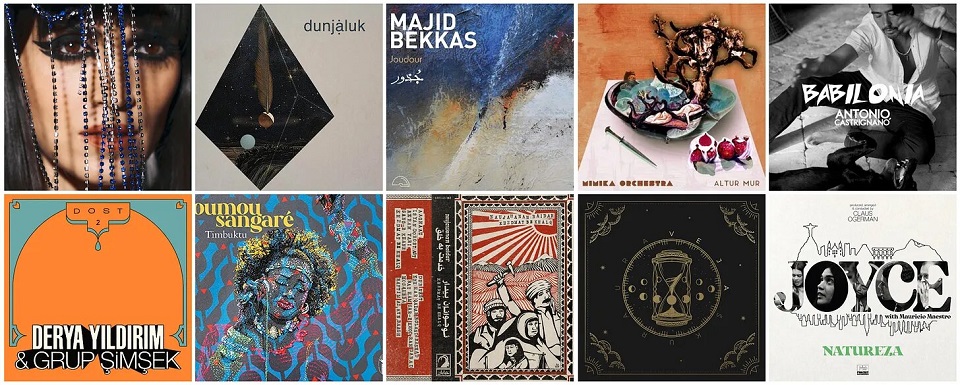 #21 Mujiwa Kunnuji's Osemako – A.P.P. (Accumulation Of Profit & Power) (OfficeHome Records)
#22 Jembaa Groove – Susuma (Agogo Records)
#23 Various Artists – L​é​spri Ka: New Directions in Gwoka Music from Guadeloupe 1981​-​2010 (Seance Centre)
#24 Vieux Farka Touré & Khruangbin – Ali (Dead Oceans)
#25 The Brother Moves On – $​/​he Who Feeds You​.​.​.​Owns You (Native Rebel)
#26 Imarhan – Aboogi (City Slang)
#27 Sowal Diabi – De Kaboul A Bamako (Accords Croisés)
#28 Dawda Jobarteh – Do You Know A Place Called Flekkeroy? (Ajabu)
#29 BKO – Djine Bora (Bongo Joe)
#30 Nu Genea – Bar Mediterraneo (NG Records)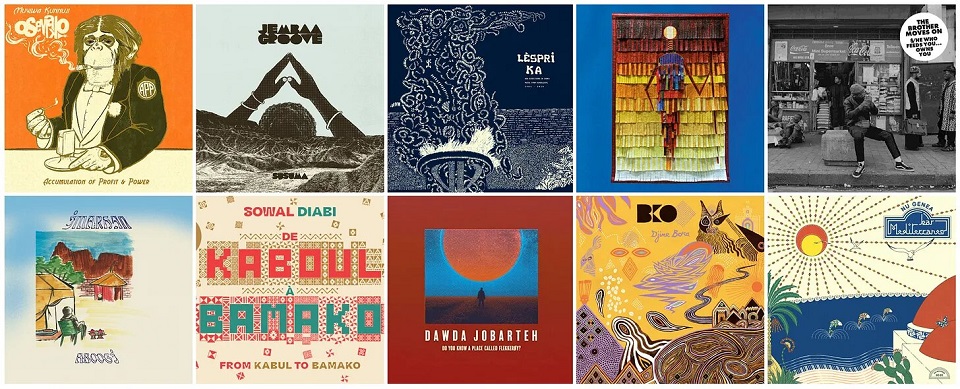 #31 Berikely & Zama – Elaela (Abrazik)
#32 Baba Commandant And The Mandingo Band – Sonbenbela (Sublime Frequencies)
#33 Bonga – Kintal Da Banda (Lusafrica)
#34 Mitsune – Hazama (Selfreleased)
#35 Combo Chimbita – Ire (Rough Trade Records)
#36 Gonora Sounds – Hart Times Never Kill (Dust-to-Digital)
#37 M.Chuzi – Papara (Sdban Records)
#38 Noori & His Dorpa Band – Beja Power! Electric Soul & Brass from Sudan's Red Sea Coast (Ostinato Records)
#39 Souad Massi – Sequana (Wrasse Records)
#40 La Pambelé – La Pambelé (Names You Can Trust)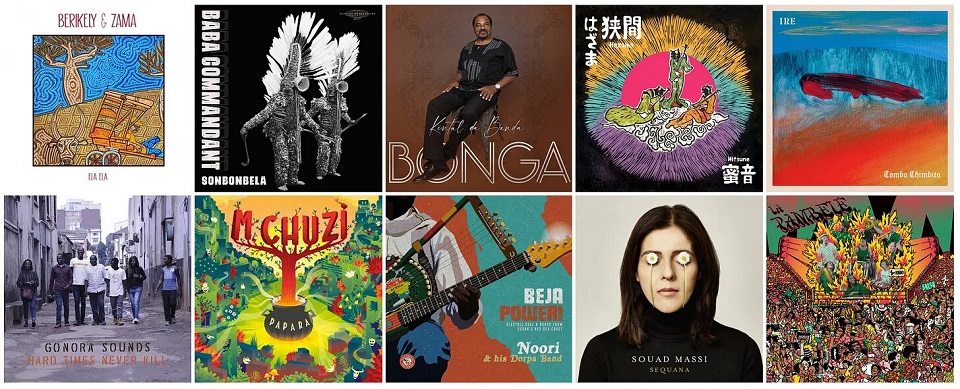 #41 Club D'Elf – You Never Know (Face Pelt Records)
#42 Akalé Wubé & Manu Dibango – Anbessa (Diggers Factory)
#43 Lidija Dokuzović Trio – I've Heard/Čula jesam (Gammalthea)
#44 Guts – Estrellas (Heavenly Sweetness)
#45 Vieux Farka Touré – Les Racines (World Circuit Records)
#46 Black Jesus eXperience – Good Evening Black Buddha (Agogo Records)
#47 Zoran Majstorović i Dunja Knebl – Sonce (Geenger Records)
#48 Congotronics International – Where's The One? (Crammed Discs)
#49 Gyedu-Blay Ambolley – Gyedu-Blay Ambolley And Hi-Life Jazz (Agogo Records)
#50 La Perla – Callejara (Mambo Negro Records)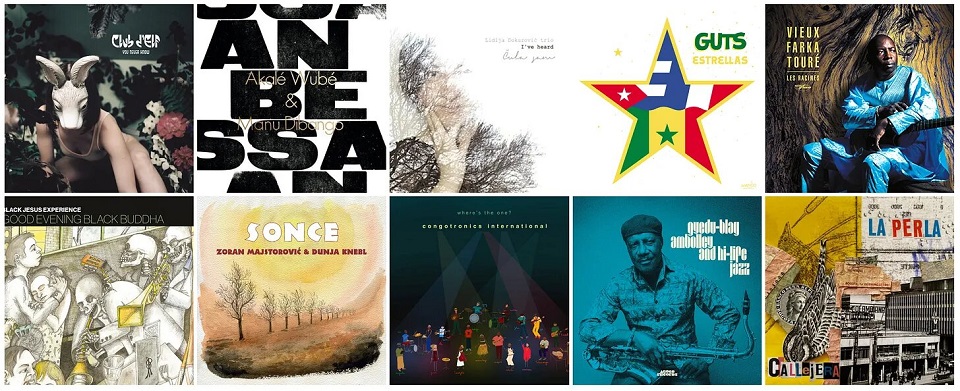 #51 Saltpond City Band – Boko A Ko (Meet Me There Music)
#52 Naked – Srećna tuga (NarRator Records)
#53 Gaye Su Akyol – Anadolu Ejderi (Glitterbeat)
#54 El Khat – Albat Alawi Op​.​99 (Glitterbeat)
#55 Sonido Gallo Negro – Paganismo (T-Vox Records)
#56 Togo All Stars – FA (Excelsior Recordings)
#57 Black Flower – Magma (Sdban Ultra)
#58 Orchestre Massoko – Orchestre Massoko (Analog Africa)
#59 Meïkhâneh – Chants du dedans, chants du dehors (Buda Musique)
#60 Marjan Vahdat – Our Garden Is Alone (Kirkelig Kulturverksted)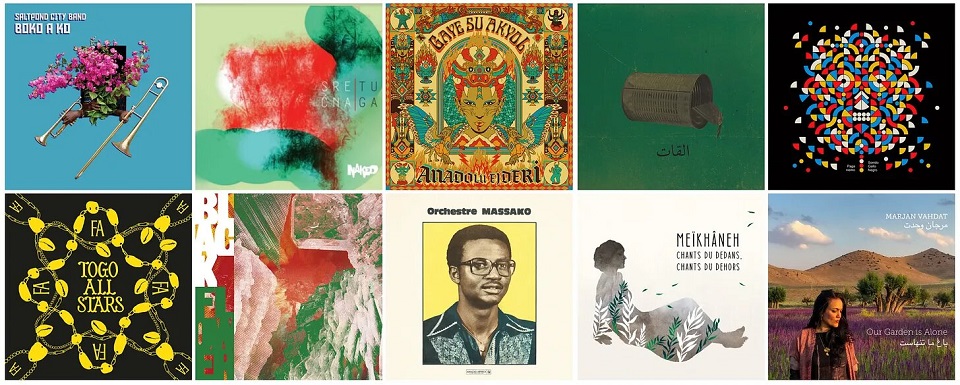 #61 Kibrom Birhane – Here And There (Flying Carpet Records)
#62 Ferkat Al Ard – Oghneya (Habibi Funk)
#63 Ezra Collective – Where I'm Meant To Be (Partisan Records)
#64 Funmilayo Afrobeat Orquestra – Funmilayo (Selfreleased)
#65 Sababa 5 – Sababa 5 (Batov Records)
#66 Rokia Koné & Jacknife Lee – Bamanan (Real World Records)
#67 The Movers – The Movers Vol​.​1 – 1970​-​1976 (Analog Africa)
#68 YĪN YĪN – The Age Of Aquarius (Glitterbeat Records)
#69 Mostar Sevdah Reunion – Lady Sings The Balkan Blues (Snail Records)
#70 Various Artists – Afro Psych (Journeys Into Psychedelic Africa 1972 – 1977) (Africa Seven)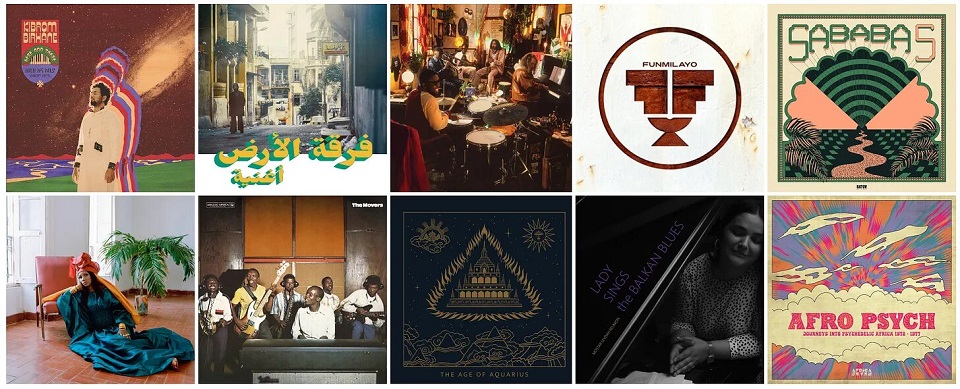 #71 Mali Obomsawin – Sweet Tooth (Out Of Your Head Records)
#72 The Three Seas – Afterlife (Earshift Music)
#73 The Bongo Hop – La Ñapa (The Underdog Records)
#74 Mista Savona – Havana Meets Kingston Part 2 (Cumbancha)
#75 Vartra – Basma (CPL Music)
#76 The Shaolin Afronauts – The Fundamental Nature of Being (Freestyle Records)
#77 Stelios Petrakis Quartet – Spondi (Technotropon Artway)
#78 Braća Teofilović – Element (Croatia Records)
#79 Kolo Slavuj & Folklorelektro – Kolectrified (Menart)
#80 Gabba – Gabba (Drengestua Records)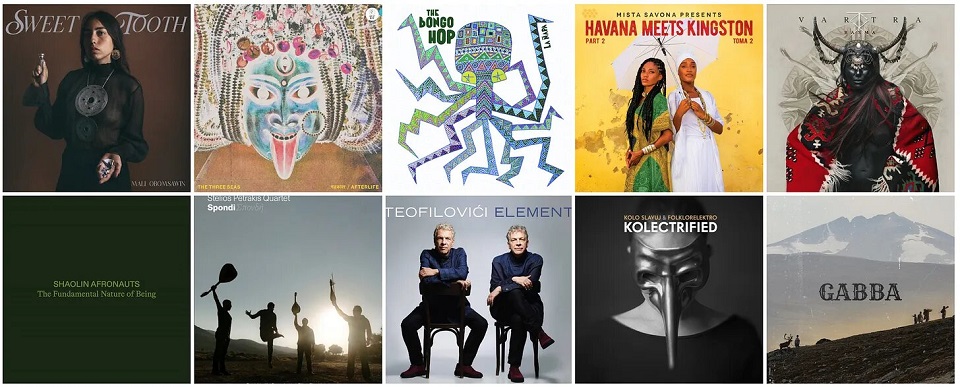 #81 KG Westman & Za​ع​faran – KG Westman & Za​ع​faran (Root Rock)
#82 Wau Wau Collectif – Mariage (Sahel Sounds)
#83 Alhaji Waziri Oshomah – World Spirituality Classics 3: The Muslim Highlife of Alhaji Waziri Oshomah (Luaka Bop)
#84 Toumani Diabate – Toumani, Family & Friends (Universal Music Africa)
#85 Shulùq Ensemble – The Dream Of Ibn Hamdis (Visage Music)
#86 Africa Negra – Antologia Vol.1 (Bongo Joe)
#87 Etran de L'Aïr – Agadez (Sahel Sounds)
#88 Black Mango- Quicksand (Gustaff)
#89 Sarathy Korwar – Kalak (Leaf)
#90 Montparnasse Musique – Archeology (Real World Records)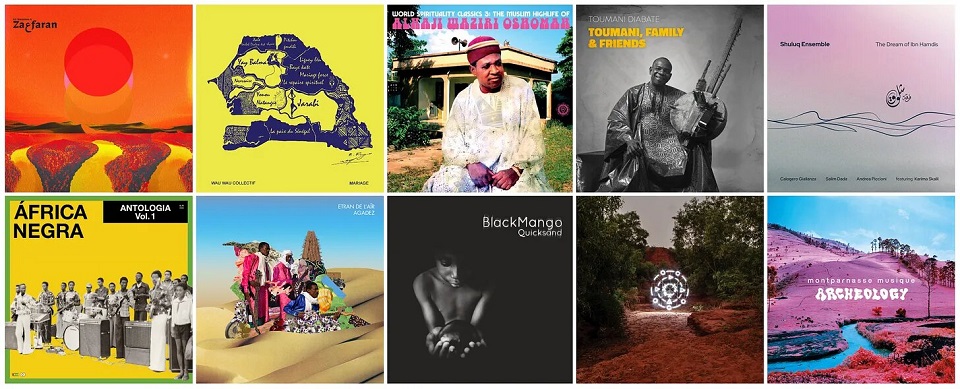 #91 Folkatomik – Polaris (Italysona)
#92 Amadou & Mariam – Eclipse (Because)
#93 Ticora – Rivers Of Ogun (Selfreleased)
#94 Hamid El Kasri – Roots & Plugged (Metronome)
#95 Alice In WonderBand – Rikataka (New Balkan Rhythm) (CPL Music)
#96 The Ano Nobo Quartet – The Strings of S​ã​o Domingos (Ostinato)
#97 Alune Wade – Sultan (Enya & Yellowbird)
#98 Balungan – Kudu Bisa Kudu (Cuneiform)
#99 Orkiestra sw. Mikolaja – Trzeci koncert (Dalmafon)
#100 Ana Alcaide – Ritual (Selfreleased)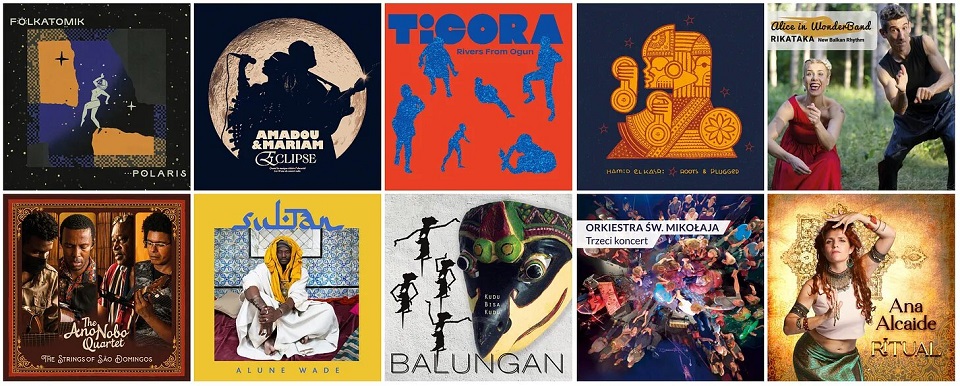 ---