Ivan Lončarević, urednik radio emiisje i izdavačke kuće Pop Depresija, pored impresivn eliste emisija i albuma koje je produkovao tokom ove godine (zaista, ne zna se što je impresivnije), donosi listu albuma koji su obilježili godinu na izmaku, a po kojim kriterijumima je formirao listu, pročitajte:
Kao i svake godine pred vama je lista albuma koje sam najviše slušao, kao i onih koje sam voleo više od ostalih, znači lista (pojačanih) deset albuma, plus još 25 abecednim redom. Uz njih svakako treba dodati PD/Kišobran izdanja, pošto je to ono čime sam se najviše bavio i ove godine. Neke baš lepe albume smo objavili, zar ne? Od padavičara najviše sam slušao Arab Strap i Low, od pankera Sleaford Mods, od klasičara Tiersena i "Promises", od magije "Vulture Prince" i "Outside Child", od Ibarske magistrale oba Altin Gun albuma i Kit Sebastian. Kraljica Little Simz je tu da predstavlja i Sault i Cleo Sol i celu ekipe engleskih fantazista.
Yann Tiersen – Kerber (Mute)
Arab Strap – As Days Get Dark (Rock Action)
Floating Points, Pharoah Sanders & The London Symphony Orchestra – Promises (Luaka Bop)
Arooj Aftab – Vulture Prince (New Amsterdam Records)
Little Simz – Sometimes I Might Be Introvert (AGE 101)
Low – HEY WHAT (Sub Pop)
Allison Russell – Outside Child (Fantasy Records)
Sleaford Mods – Spare Ribs (Rough Trade)
Kit Sebastian – Melodi (Mr Bong)
Altin Gun – Âlem/Jol (Glitterbeat)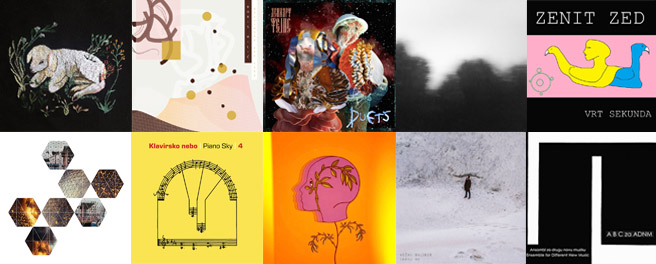 Najviše vremena sam proveo uz naša izdanja. Sa par njih to je bilo od samog početka – Rebel Star, Bohemija – sa drugima smo pozvani da "uskočimo" kada je sav rad na pesmama uglavnom bio gotov i gde je trebalo samo da pomognemo oko promocije i izdanja – Igor Božanić, Boris Milić, Lenhart Tapes, Vikowski, Zenit Zed, Nežni Dalibor – dok je rad na Klavirskom nebu #4 bio baš divan i inspirativan sa puno novih kompozitora koji su poslali svoje pesme na konkurs. Što se mene lično tiče, Igorov album je baš čudesan i biće takav i za deset godina, Zenit Zed je univerzum za sebe (koliko sam samo srećan što se ovaj album pojavio!), Lenhartov san je morao da se ostvari i drago mi je da smo i mi deo tog masterplana (zajedno sa Matrijaršijom/Novo Doba festivalom), Boris Milić je kao kometa koja prođe pored nas i donese darove – ovoga puta doneo je vinil :), Rebel Star je pleme u kojem su svi bitni (imamo dva albuma Rebel Star u dve godine, čoveče!), naš prvi inostrani umetnik kog smo objavili, Vikowksi, poseban je po tome što je njegov album i prvi koji je Marko Radojković (COO i CEO PD/Kiš amalgana) izabrao da objavimo. Čast nam je bila što smo učestvovali u prvom albumu Ansambla za drugu novu muziku (biće ih još)! I za kraj, poslednja dva srednjesvirajuća izdanja (31:11 – 20:19) iz ove godine, "Putujemo" i "Skroz OK" – nešto što će da ostane da zrači i znači.
Igor Božanić – Runo
Boris Milić – Baltimore Ask Tara
Lenhart Tapes – Duets
Vikowski – The Long Run
Rebel Star – Početak i kraj
Zenit Zed – Vrt sekunda
Razni izvođači – Klavirsko nebo #4
Bohemija – Putujemo
Nežni Dalibor – Skroz OK EP
Ansambl za drugu novu muziku (ADNM) – ABC za ADNM
Amyl & The Sniffers – Comfort to Me (ATO)
Billy Bragg – The Million Things That Never Happened (Cooking Vinyl)
Brandi Carlile – In These Silent Days (Low Country Sound/Elektra)
Converge & Chelsea Wolfe – Bloodmoon: I (Epitaph Records)
Damon Albarn – The Nearer the Fountain, More Pure the Stream Flows (Transgressive Records)
Dry Cleaning – New Long Leg (4AD)
Hand Habits – Fun House (Saddle Creek)
Hannah Peel – Fir Wave (My Own Pleasure)
Helado Negro – Far In (4AD)
IDLES – Crawler (PTKF)
Jane Weaver – Flock (Fire Records)
Joan as Police Woman, Dave Okumu and Tony Allen – The Solution Is Restless (PIAS)
John Grant – Boy From Michigan (Bella Union)
Marissa Nadler – The Path Of The Clouds (Sacred Bones)
Matt Sweeney & Bonnie 'Prince' Billy – Superwolves (Drag City)/Bill Callahan & Bonnie 'Prince' Billy – Blind Date Party (Drag City)
Michael Hurley – The Time of the Foxgloves (No Quarter)
Mdou Moctar – Afrique Victime (Matador)
Mocky – Overtones for the Omniverse (Heavy Sheet)
Mogwai – As the Love Continues (Rock Action)
Sons Of Kemet – Black To The Future (Impulse!)
Squid – Bright Green Field (Warp)
The Notwist – Vertigo Days (Morr)
The Weather Station – Ignorance (Fat Possum)
Turnstile – GLOW ON (Roadrunner Records)
Viagra Boys – Welfare Jazz (Year0001)
---