PONOĆNI KONCERTI: BRUCE SPRINGSTEEN LA 1988
Written by Bruškin Radio on April 5, 2021
"Ponoćni Koncerti" ove sedmice donose vrlo poseban, cjelovečerenji, isprni, inpirativni koncert, snimak zvučnog i emotivnog cunamija koji su Bruce Springsteen i E Street Band ostavili u Los Angelesu aprila 1988 u toku petdonevnog LA maratona njihove "The Tunnel of Love Express Tour". Približno tri ipo sata drugačije, i za ono vrijeme posljednje E Street turneje (za narednih 10 godina), objavljeni su kao podsjetnik na jedan vrhunaca gazdine karijere. Slušamo sa uživanjem ove sedmice, svake večeri od 0:00 !
Set lista, podijeljena na tri diska, izgleda ovako:
1. Tunnel of Love (8:07)
2. Be True (5:06)
3. Adam Raised a Cain (6:21)
4. Two Faces (4:00)
5. All That Heaven Will Allow (11:46)
6. Seeds (6:05)
7. Roulette (4:23)
8. Cover Me (7:44)
9. Brilliant Disguise (5:13)
1. Spare Parts (10:55)
2. War (3:00)
3. Born in the U.S.A. (8:37)
4. Tougher Than the Rest (6:45)
5. Ain't Got You – She's The One (10:10)
6. You Can Look (But You Better Not Touch) (5:23)
7. I'm A Coward (10:36)
8. I'm On Fire (4:27)
9. One Step Up (6:02)
10. Part Man, Part Monkey (5:15)
11. Across The Borderline (5:40)
1. Dancing in the Dark (6:30)
2. Light Of Day (11:12)
3. Born to Run (5:38)
4. Hungry Heart (5:09)
5. Glory Days (8:13)
6. Rosalita (Come Out Tonight) (10:17)
7. Have Love, Will Travel (5:47)
8. Tenth Avenue Freeze-Out (5:16)
9. Sweet Soul Music (3:18)
10. Raise Your Hand (7:08)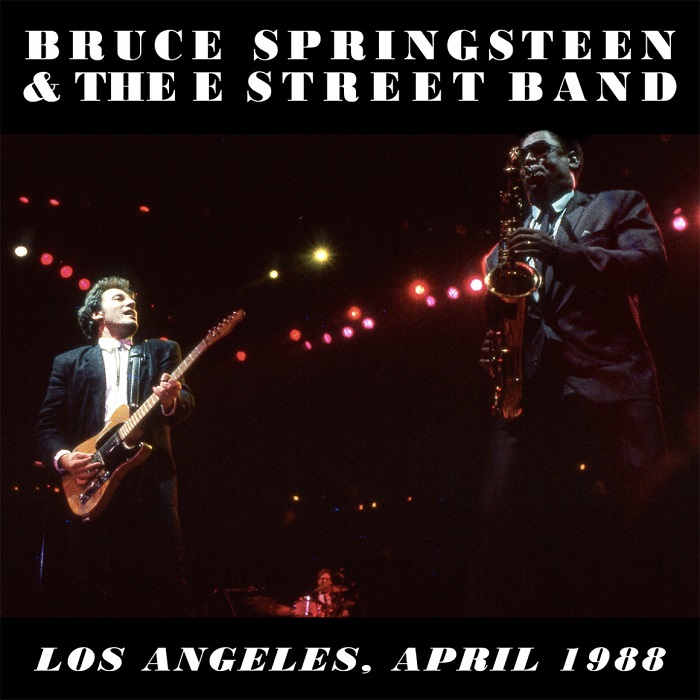 Takođe, integralno prenosimo tekst novinara Erik Flannigan-a koji je putujući za bendom obišao čitavu turneju, i ovo su njegove impresije:
"I saw more shows on the Tunnel of Love Express Tour-21, to be exact-than on any Springsteen tour prior or since. As a result, 1988 holds a special place in my heart.
By the time I started my Tunnel run, at Rupp Arena in Lexington, Kentucky, it was clear these shows were purposefully distinct from that which came before, reflected in everything from the billing (Bruce Springsteen featuring the E Street Band) and the band members' positions, to the addition of on-stage set elements (the ticket booth, the park bench) and, most notably, a set list that varied by only a song or two if it changed at all.
Setlist consistency has historically been considered something of a demerit for the '88 tour. As I rolled from town to town, show after show…
…I'll admit I initially yearned for changes, though that was more to counter my own unusual circumstances than any sense that "the show needs them." It didn't.
I now admire the Tunnel of Love Express Tour for its commitment to Bruce's creative expression. Back in '88, once I made my peace with the lack of changes and focused more on what he was playing, I came to appreciate the shows even more. Certain gigs (I'm looking at you, St. Louis), still stand out for their performance energy and connection to the audience.
By the time the tour rolled into Los Angeles for a run of five shows (allowing me to sleep in the same bed for more than two nights), I was fully on board. Any changes, should we get them, were icing on an already delicious cake. The fifth and final LA performance on April 28, 1988 is peak Tunnel tour and, with the addition of one extra special song, warrants inclusion in the Live Archive series.
We have revisited this stand before, as the second show on April 23 was released back in July 2015. The first thing you'll notice about 4/28 by comparison is that the Man in Black has moved your seat forward about 10-15 rows closer to the stage, revealing more sonic detail and placing you right next to the band.
It remains a memorable show opening, as the E Streeters walk out in pairs, then Clarence Clemons, then Bruce, to take us on a ride through "Tunnel of Love" straight into the resurrection of River outtake and b-side "Be True," carried so capably by Clarence. 1988 was a great year for "Adam Raised a Cain," bolder than ever with the addition of the Horns of Love. Each version from '88 released in the series has its own distinct appeal in how Springsteen sings it. The tone of this night is expressed in the slightly tweaked reading of the line, "From the dark heart, baby, from the dark heart of a dream."
"Two Faces," so rarely played after this tour, stands out for its pure songwriting excellence. The sweet "All That Heaven Will Allow" prelude with the Big Man on the park bench is heartwarming, a moment of looking ahead in life, not reflecting on his passing as we do now. Bruce mentions that when the weather turns warm, "Girls dig out all their summer clothes," clearly making a mental note that would be remembered 20 years later for Magic. Equally prescient, while looking at photos of Clarence's new baby, Springsteen jokes, "In about 15 years, there's gonna be an E Street Band Volume Two." He was off by just ten years and one familial branch, in predicting Jake Clemons joining the band.
There's serious high voltage in the back half of the first set. Springsteen's full-throated vocals fuel the tractor pistons of "Seeds," and this "Roulette" is a candidate for best-ever status. Every musical detail is vivid, in particular Max Weinberg's drumming and Roy Bittan's piano. "Roulette" melds into "Cover Me," and perhaps because of the horns, the '88 editions of the song are my favorites. "Cover Me" gallops with conviction, pace and power, twisted just a shade darker by a few snippets of the Rolling Stones' "Gimme Shelter."
"Brilliant Disguise" eases off the throttle a little, though one could argue the subject matter is darker still, as desire gives way to self-doubt. Roy and Danny's gorgeous "Spare Parts" sonata prelude is one of those moments of E Street musical brilliance that never showed up on record but is nonetheless one of their most beautiful contributions to the canon. The full band and horns bring "Spare Parts" to a roaring conclusion that stops on a dime and resets into Edwin Starr's "War." Bruce makes sure every line lands, shifting one for extra impact as he swaps "friend only to the undertaker" to "ain't nothin' but a widow-maker."
The first set ends as it did every night on this leg with a fantastic "Born in the U.S.A." I've written before about the emotive guitar solos that marked the long versions of the song performed on the '88 tour, and this is a case in point. Jon Altschiller's mix also reveals the multi-part layering of synthesizer and piano sounds by Federici and Bittan that give "Born in the U.S.A." its staggering keyboard bite. Halftime.
The second set commences with "Tougher Than the Rest," Bruce's voice sounding slightly wearier and the swirling guitar sound (from a phaser pedal?) lusher than ever. In "She's the One," Springsteen's vocal command is on point, pushing "She the onnnnnne" to the edge just before the bridge. In the land of malls that was '80s LA, "You Can Look (But You Better Not Touch)" resonates, and from there the second set only gains momentum. "I'm a Coward" is goofy fun; "I'm on Fire" offers a radical, alternate view on love to the point of obsession; and "One Step Up" nails one of the bittersweet parts of human relationships, another masterclass in songwriting. "Part Man, Part Monkey" turns the mood playful again, reminding us it's just evolution, baby.
At this point in the set, Springsteen had most frequently played "Walk Like a Man," occasionally swapping in "Backstreets." But for weeks, he and the band had soundchecked Ry Cooder's majestic "Across the Borderline," and it finally made the setlist for the last two LA shows.
The song was written by Cooder, Jim Dickinson, and John Hiatt for the soundtrack to the movie The Border, in a version sung by Freddie Fender and featuring background vocals from future Springsteen backing singer Bobby King. Cooder put out his own rendition in 1987.
Despite fewer than a dozen performances ever, you can hear the influence of "Across the Borderline" in music Springsteen wrote for The Ghost of Tom Joad and beyond, as his fascination with the intersection of roots music on both sides of the border continues to this day.
The Sports Arena arrangement adds soulful scope while maintaining the Mexican elements of the original versions. The song fits so well because it feels like Springsteen could have written it himself, but that's really a testament to the quality of the songwriting of the original. "Across the Borderline" is a welcome and worthy addition to the Live Archive series.
From there, hit the party lights, as, aside from the sublime solo acoustic "Born to Run," the last ten songs of the set turn into an E Street block party. Of note, "Sweet Soul Music," in rare standalone, non-medley form, brings a fitting bit of Memphis to a horn-driven show. Equally fun is the rare cover of The Sonics' "Have Love, Will Travel."
"Have Love, Will Travel" was written by Richard Perry (who also penned "Louie Louie") and popularized by Seattle garage-rock standard bearers The Sonics, who released their version in 1965 on the band's debut album, Here Are the Sonics. As the story goes, back in 1984, a record store employee from Seattle slipped Springsteen a Northwest Garage Rock mixtape that included "Have Love"; Springsteen found the song and it became an encore feature for the last few weeks of the U.S. Tunnel tour.
As he so often does, Bruce makes "Have Love, Will Travel" his own, keeping the chorus of the original, but rewriting the verses to fit the nomadic love themes of the tour, while making the arrangement a showcase for the Horns of Love.
When we regard several shows in a particular stand, setlist changes are often cited to distinguish good from great–the more changes the better being the general rule. Yet the 4/28/88 set differs by only one song from the previously released April 23 show. Even when the addition is as significant as "Across the Borderline," the takeaway is that setlist isn't everything, as Tunnel tour fans already know and I learned out on the road 33 years ago."
---