POP DEPRESIJA: HOMEBREW #1036 & Piano Night mix #28
Written by Bruškin Radio on December 28, 2022
Pop Depresija za kraj godine ponovo u duplom izdanju, ili dvobroju, kako više volite. Ispraćaj 2022. od strane Ivana Lončarevića donosimo kroz novu Homebrew emisiju, kao i svjež Piano Mix #28, a z apiano mixeve znamo da su Ivanova velika ljubav. Njegovu listu albumi 2022, pogledajte takođe, a mi se radujemo Pop Depresiji i u narednoj godini i svim albumima i koncertima koji će se paralelno dešavati, zašto nemamo dovoljno riječi da iskažemo zahvalnost! Slušamo i uživamo !!!
POP Depression Homebrew #1036
Featured: Timber Timbre, Chico Bernardes, The Boys With The Perpetual Nervousness, Yann Tiersen, Isla Craig, Georgia Harmer, Kae Tempest…
Nikola Vranjković – Plovni put (ft. Milorad Miki Ristić)
Old Fire – Corpus (ft. Bill Callahan)
Timber Timbre – Mystery Street
Yann Tiersen – Break Up
Mercury Rev – The Funny Bird
Agnes Obel – Close Watch
Syrinx – Aurora Spinray
Jana Horn – Optimism
John Martyn – May You Never
Eddie Vedder – Fallout Today
Consecration – Kabriolet
Another Michael – Water Pressure
NEIL FRANCES & PawPaw Rod – High
The Boys With The Perpetual Nervousness – Isolation (ft. Mary Lou Lord)
Michael Rault – Exactly What I Needed
Sylvie & Marina Allen – Further Down The Road
Georgia Harmer – Headrush
Mila Webb – Lucky Nights
Dougie Poole – High School Gym
Badge Époque Ensemble & James Baley – Zodiac
Greg Dulli – I Would Die 4 U/Baby I'm a Star
Chico Bernardes – O Espelho
Isla Craig – Song for Boots
Everything But The Girl – Love Is Strange
Healing Potpourri – Wind
Congotronics International – Super Duper Rescue Allstars
Alvvays – Tom Verlaine
SCUDFM – One Thing
Kae Tempest – Salt Coast (ft. Speakers Corner Quartet) [Apple Music Home Session]
artwork from Avenue 5 S02
Pop Depression Piano Night mix #28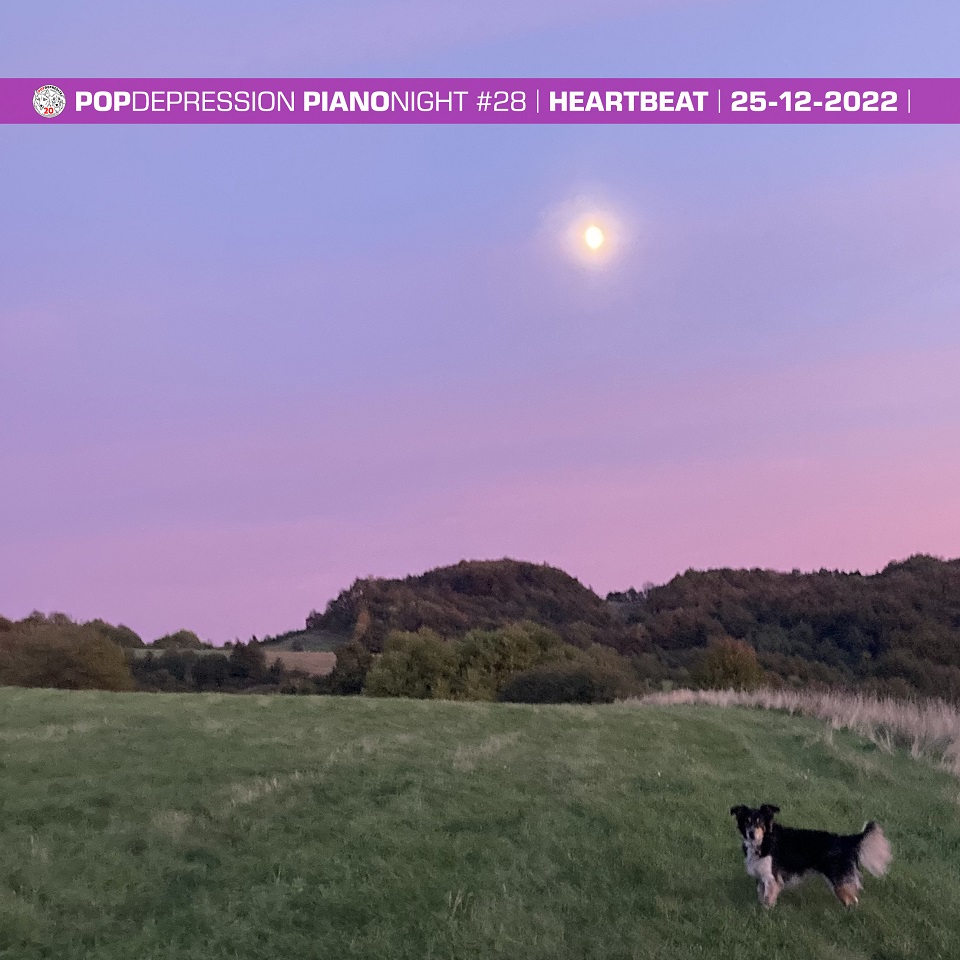 Ima Danilo u "Kabrioletu" (s albuma "Plava laguna" grupe Consecration) stih koji mi uleti u svesnost u raznim neočekivanim situacijama: "muzika mi je sve, a samo kako dišeš mogu da slušam celu noć"… Kada je raspad – tu je muzika, kada je sve super – tu je muzika, kada je stres – tu je muzika, kada je neizvesnost – tu je muzika, kada je ljubav – tu je muzika. Ovo je muzika sklopljena iz stresa. I ljubavi. I raspada. I očaja. I vere. Ja zaista verujem da muzika leči i da ima moć da sve promeni.
Šta bih izdvojio sa piano night mikstejpa #28? Genijalnog Nemanju Mosurovića bez mnogo razmišljanja, Pavlovu novu kompoziciju sa Loranom na violini (uskoro Pavle objavljuje novi divan album!), Haniu Rani uvek i u svakom obliku, Branku i Natašu koje sviraju Brajarsovu "White's SS" uživo na Kolarcu u okviru Kontakta 2022, prijatelje LP Duo i Dejana. Sve bih izdvojio. Ovo je i neki skroz subjektivni izbor omiljenih albuma/kompozicija/saundtrekova ambijentalne/"indie klasika" muzike iz ove godine.
---
Featured: LP Duo, Ólafur Arnalds, Sophie Hutchings, Roger Eno, Ryuichi Sakamoto, Fennesz, Nemanja Mosurović, Caroline Shaw, Attacca Quartet, Balmorhea, Portico Quartet, Pavle Popov, Loran Božić, Hania Rani, Colin Stetson, Tigran Hamasyan, Mark Turner, Sam Prekop, Sun Ra Arkestra, Dejan Ilijić, Pete Judge, Michael Price, Gavin Bryars, Branka Parlić, Nataša Penezić, Daniel Lanois, Raid, Jessica Moss, Una, Peter Broderick
LP Duo – Winter Ferry FF /Dead Sea
Ólafur Arnalds – Still/Sound (ft. Sophie Hutchings) (Piano Reworks) /Some Kind Of Peace – Piano Reworks
Roger Eno – Stars and Wheels /The Turning Year
Ryuichi Sakamoto – Amore – Fennesz Remodel /A Tribute to Ryuichi Sakamoto – To the Moon and Back
Nemanja Mosurović – To Be Born /Another Country (Original Motion Picture Soundtrack)
Caroline Shaw & Attacca Quartet – Other Song /Evergreen
Balmorhea – Rose in Abstract (Portico Quartet Remix) /The Wind (Deluxe)
Pavle Popov – Perpetuum (ft. Loran Božić) /Unpublished
Hania Rani & Colin Stetson – In All This Heavy Blue /In All This Heavy Blue
Tigran Hamasyan – All the Things You Are (ft. Mark Turner) /StandArt
Sam Prekop – Fall is Farewell /The Sparrow
Sun Ra Arkestra – Chopin /Living Sky
Colin Stetson – All Aboard /"The Menu" Soundtrack
Dejan Ilijić – Mistakes (ft. Pete Judge) /DYAD III
Michael Price – The Stream Shines Silver /Whitsun
Gavin Bryars – White's SS – Branka Parlić & Nataša Penezić /Live@Kolarac 2022
Daniel Lanois – Sunday Asylum /Player, Piano
Raid – To her /12 Rooms
Jessica Moss – Undirected /Galaxy Heart
Una – Potkrovje /Тие што останаа се поети (Sharla Records Label Sampler 2022)
Hania Rani – Spring /On Giacometti
Peter Broderick – It's a Storm When I Sleep /Piano Works Vol. 1 (Floating in Tucker's Basement)
artwork: Zuma u sumrak na Rajcu (2022)
---