PONOĆNI KONCERTI: PETER GABRIEL -GLASTONBURY 1994
Written by Bruškin Radio on September 20, 2021
"Secret World" koncertni set sletio je ljeta 1994 na Glastonbury festival i pod svjetlucavom piramidom donio zvuk i viziju novog, drugačijeg svijeta koji je Peter Gabriel izmaštao davno prije ovog koncerta. Donio je i neke duboko lične priče o putovanju duboko unutar sebe paralelno sa putovanjem u svijet oko sebe. Srećim okolnostima, koncertni snimci su ostali da nam svjedoče o ovom nesvakidašnjem trenutku, i sa zadovoljstvom ih slušamo!
"Ponoćni Koncerti" su na programu svakod dana od ponoći. Svaki koncert emituje se od ponedjeljka tokom čitave sedmice. Uređuje i piše: Tomislav Žegura.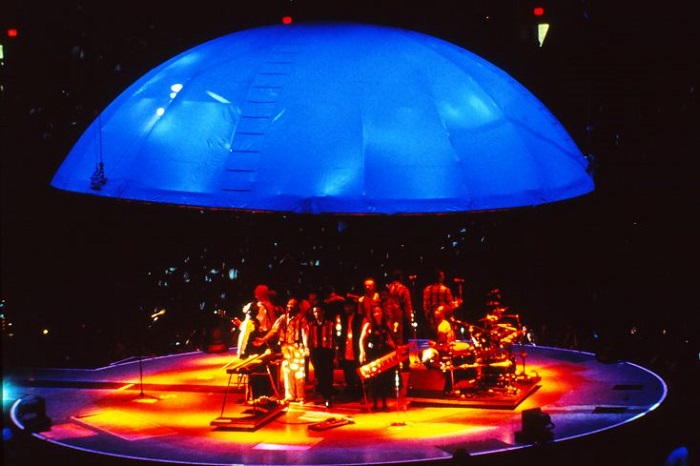 TAJNI SVIJET PETER GABRIELA
Nije tajna da je Peter Gabriel bio, i ostao pionir u autorskom izrazu, izvođačkom nastupu i sveobuhvatnoj umjetničkoj pojavi. Još 70-tih kao predvodnik (tada) prog rock atrakcije Genesis (koje su kod nas neki odomaćeno zvali Dženisići) Gabriel je preko muzike o pastoralnoj Engleskoj ukazivao na zamke i zablude (veliko) britanskih mitova i njihov poguban uticaj na današnjicu. Kasnije je svijet oko sebe sve više sagledavao kroz unutrašnju prizmu, bilo da se radi o previranju emocija, opisima snova ili suočavanju sa najtamnijim kutkom sopstvene ličnosti. Muzički put ga je uskoro odveo daleko od matičnih Dženisića (i mašinerije šou biznisa) preko sedam mora, i još više gora, u izučavanje muzičkih izraza poteklih daleko od uticaja bijelog čovjeka.
Kao prvobitan bubnjar, sa uvijek naznačenim osjećajem za ritam, Peter Gabriel duboko je svijestan da je muzičko naslijeđe 20.vijeka u kulturi crnog čovjeka iz Afrike, njihovog ritma i sveg što je nastalo nakon….barem nakon 20-tih godina 20-tog stoljeća. Takođe, na istom putu okrivao koliko su važne kulture praktično svih ostalih naroda ovog svijeta, i koliko su istovremeno nedostupne isključivo bijelom rasno-političko-poslovnom kursu i diskursu zapadne dominantne muzičke industrije.
Taj pomenuti kurs muzičke industrije, Peter Gabriel je pretvorio u diskurs, stvorivši komunikaciju različitih kulutura kroz njihovu dostupnost, a u praksi stvarajući paralelni svijet sopstvene izdavačke kompanije (Real World Records), velikog muzičkog studija (Real World) i festivala WOMAD (World Of Music, Arts and Dance) koji su muziku čitavog svijeta povezali i predstavili je zapadnoj javnosti, od kojih su mnogi protagonisti danas opšte kulturne vrijednosti (npr Baba Maal ili Nusrat Fateh Ali Khan).
U domenu svoje muzike, Gabriel je nastavio da istražuje unutrašnje i spoljašnju. Otkrio je tako, da u Afričkim narodima ritmovi ne predstavljaju samo poligon za ples, makar i ritualni, već i da imaju ulogu prizivanja, iscjeliteljstva, oprosta i komunikacije. Kad žale za umrilm, ili pozivaju voljenu osobu da se vrati, kada opraštaju drugima za nanijeto zlo, za sve postoji ritam. Kad se negdje u svijesti Petera Gabriela taj ritam povezao sa gajdama Škotske koje su svirale u vrlo sličnim situacijama, slučajno se rodio pojam Afro/Celts, još ranih osamdesetih.
Tako su gajde i afrički ritmovi tutnjili o protestnoj pjesmi posvećenoj nasilno preminulom južnoafrikancu Stevenu Biko-u (u vjerovatno najvažnijoj protestnoj numeri 80-tih) ili prizivale, vapile za razgovorm sa sopstvenom kćerkom u trenutku prekida komunikacije (Come talk to me).
Težište Gabrielovih stihova sve više je bilo lično, a muzika sa sve više kontinenata. Negdje na tom putu došli su i veliki uspjeh i priznanja, svijet je to prepoznao, i praktino, novi svijet se rodio, više nije bio tajnovit. Barem u muzici, barem u pjesmama, barem u koncertima.
Jedan od tih vruhnaca predstavlja i nastup Peter Gabriela i njegovog pratećeg benda ispod piramide na Glastonbury festivalu održanom 26. juna 1994. Ne smijemo ga zaboraviti.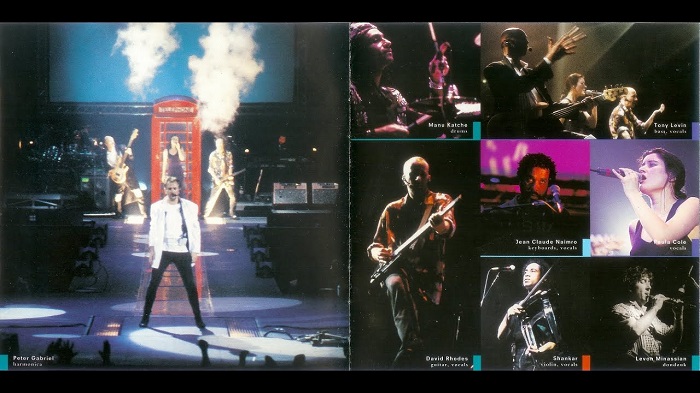 ---
Reader's opinions
---