Pop Depresija Specijal: Dogma Brewery – Zuma Mountain IPA & Homebrew #1035
Written by Bruškin Radio on December 20, 2022
Duplo izdanje Pop Depresije slušaćemo ove srijede od 21h do ponoći. Prvi na redu je Pop Depresija Specijal u Dogma Tap Room-u, uživo druženje Ivana Lončarevića i Nebojše Krivokuće, uz promociju piva Zuma Mountain IPA, i naravno, sjajnu muziku, a nakon toga slušamo novo standardno #1035 izdanje Pop Depresije. Tri sata radijskog druženja.
Pop Depresija Specijal: Dogma Brewery – Zuma Mountain IPA
Jedan po svemu specijalni događaj održan je u Dogma Tap Room-u (Beograd za neupućene) u ponedeljak 12. decembra od. Domaćini večeri bili su Ivan i Bojša/Prešlicavanje, DJ tim Ghetto University i Benjd, a promovisana je nova Dogma Brewery kreacija – Zuma Mountain IPA . Deo novca od prodaje piva koji je namenjen PD ide u humanitarne svrhe i to udruženjima za zaštitu životinja.
PS: Ako neko pita zašto Zuma ima svoje pivo, neka pogleda sliku dole…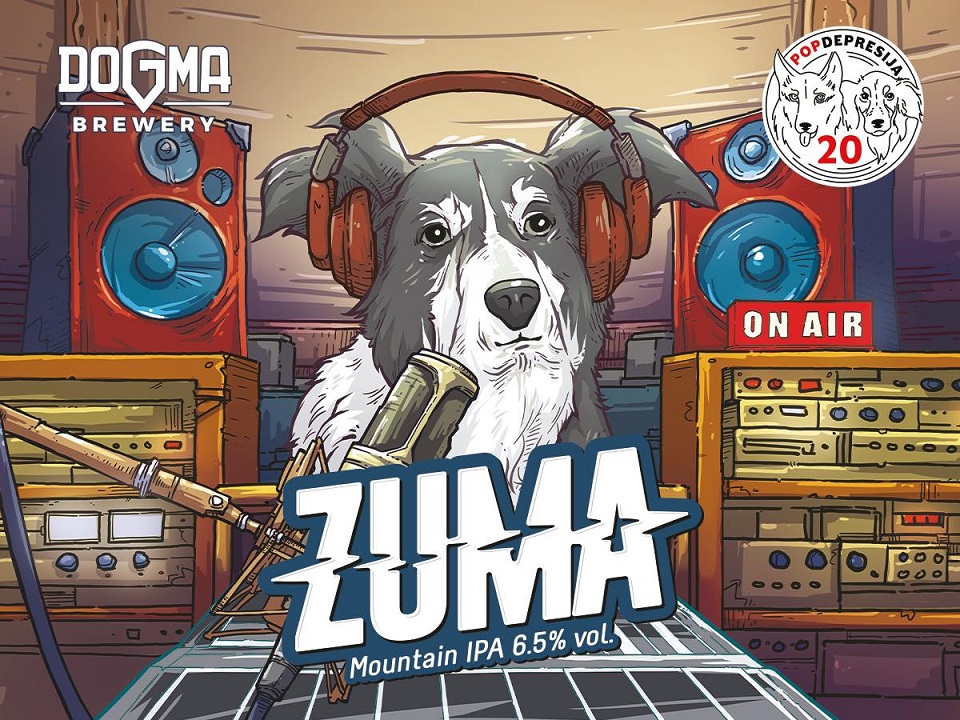 Ponedeljak je novi petak, a uz pivo i muziku svaki dan je praznik! Ivan Lončarević i Nebojša Krivokuća, autori podkasta Pop Depresija i Prešlicavanje, vaši su domaćini u formalnom delu večeri, koje je zamišljeno kao 60 minuta subjektivnog premotavanja ove godine. Pored toga premijerno je emitovano nekoliko pesama iz kataloga PD/Kišobran kolektiva, koje će biti objavljene tokom sledeće godine. Centralni deo ovog druženja je promocija piva Zuma Mountain IPA! DJ podrška je Ghetto University ekipa, a nekoliko pesama odsviraće i enigmatični kantautor Benjd.
ZUMA / Mountain IPA / Specijalno svetlo pivo / 6,5% vol.
Dogma Brewery collab brew w / Pop Depresija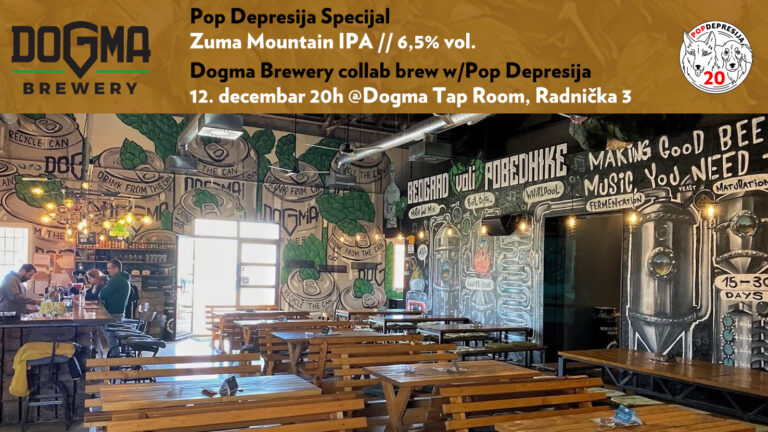 Ovo pivo rezultat je dugogodišnjeg prijateljstva Ivana Lončarevića iz Pop Depresije i Dogme, a posvećeno je Zumi. Sa sladovima nismo komplikovali, Pilsner, slabo karamelni slad i pahuljice, zbog mekoće i tela. Hmeljevi su druga priča, išli smo sa Stratom, Zappom, Southern Passion i Galaxyjem. Kako hmeljevi dosta variraju jedan od drugih, tako će se aromatski u pivu naći citrusa, slatkog voća, bobičastog voća, tropikale i mint arome. Za početak, u prodaji je samo točeno pivo, a tokom nedelje stižu nam i limenke!
POP Depression Homebrew #1035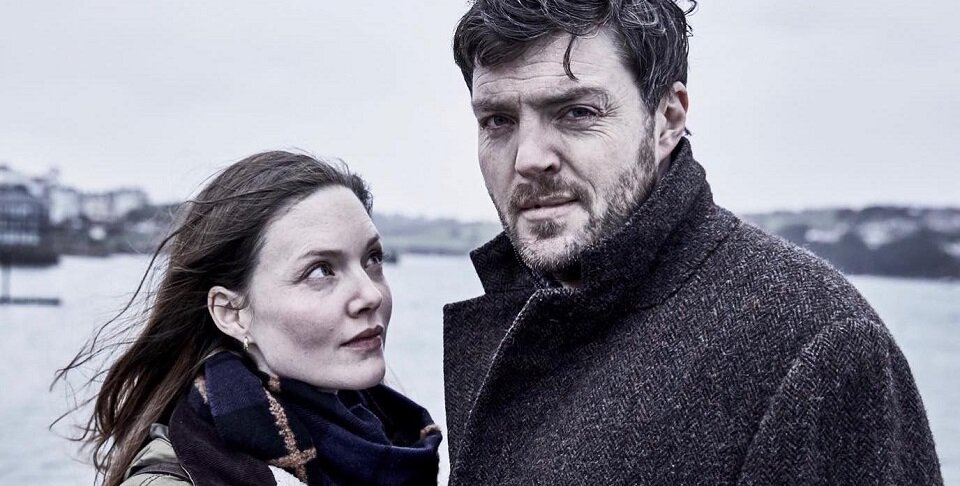 Featured: Kronika, Nikola Vranjković, Kralj Čačka, Vizelj, New Curch, Triko, Egret, Димитра, Francis K. A., Mitsko Biće & Kineski restoran, Lou Turner, Anna Tivel, Tommy McLain, Nev Cottee, The Alchemist…
Nikola Vranjković – Kad tuga pobedi bes (ft. Dragutin Guta Jakovljević)
Gruff Rhys – Amen
Kronika – Anča
Dead Meadow – To Let the Time Go By
Kralj Čačka – Zemlja nije moj dom
Tommy McLain – That's What Mama Used to Do
Lou Turner – What Might We Find There
Pearl & The Oysters – Pacific Ave
Vizelj – Radijacija
Other Half – Just a Holiday
New Church – heaven
Gaye Su Akyol – Biz Ne Zaman Düşman Olduk
Blonde Redhead – Young Neil
Triko – Avgust
Alva Noto & Martin L. Gore & William Basinski – Subterraneans
Egret – No Time For a Letdown
Anna Tivel – Two Dark Horses
Little Simz – Angel
Димитра – Ло-фај ми ги држи другарите хај
The Alchemist – Big Syke (ft. Meyhem Lauren & Boldy James)
Francis K. A. – Viktorija
Hannah Jadagu – Say It Now
Mike Dimes – FLEEK
Mitsko Biće & Kineski restoran – Bilo nekad
Nev Cottee – A Million Years
Weyes Blood – Children Of The Empire
R. Ring – Def Sup
Nikola Vranjković – Teorija zabave
artwork from Strike S05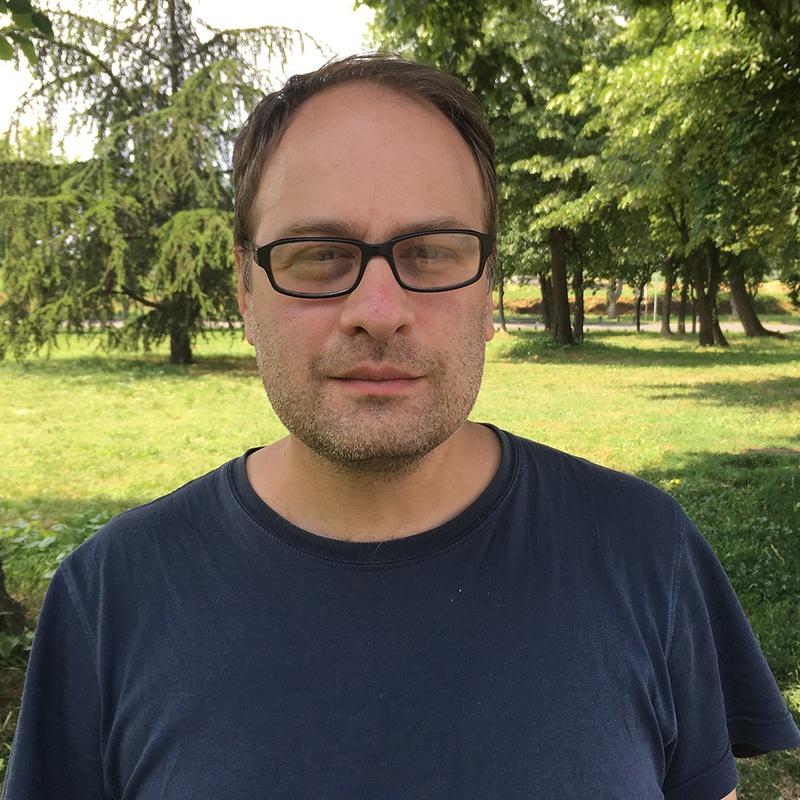 "Pop Depresiju" slušamo srijedom u 21h, vodi i uređuje Ivan Lončarević!
---